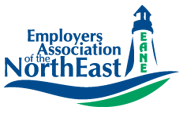 Duffy & Sweeney and the Employers Association of the NorthEast (EANE) will present a half-day conference targeting Rhode Island employers to be held on Thursday, November 9th at the Crowne Plaza in Warwick, RI.  "Staying Afloat in the Sea of Employment Law" will address the ever-changing landscape of employment laws and HR best-practices.
"We understand that relationships between employers and employees impact the bottom line in a multitude of ways. We regularly work with clients on a host of employment law matters and will share our experience and perspective on the issues we see every day," said Jean Harrington, partner at Duffy & Sweeney.

The conference will feature speakers from both Duffy & Sweeney and from EANE. On the agenda will be a legislative update followed by presentations on reasonable accommodation and PTO, medical marijuana in the workplace, stay interviews, and broaching retirement with older workers.
The program fee is $99 per person, which includes breakfast. Register at http://www.eane.org/rhode-island-employment-law-and-hr-practices-update   via phone at 877-662-6444.   The program will offer credits from the HR Certification Institute and SHRM.
For additional questions, contact Jean Harrington at jharrington@duffysweeney.com