Christian Jenner has a multifaceted dispute resolution practice with an emphasis on complex business litigation. Christian has represented clients in state and federal courts, before the American Arbitration Association, and in both private and court-annexed mediations. He has been named a Rising Star by
Super Lawyers
 since 2014.
His corporate governance litigation experience includes shareholder derivative actions, class actions and direct actions. He frequently handles minority shareholder claims, claims of breach of fiduciary duty, and litigation arising out of mergers, acquisitions and other change-of-control transactions. Christian also has significant experience representing clients for alleged violation of federal and state securities laws.
Christian has litigated complex contract disputes, unfair trade practice and consumer protection cases, and insurance coverage disputes. He has advised clients in responding to government investigations and threatened litigation. He has represented victims of financial crimes, and obtained restitution on behalf of those victims.
Before joining Duffy & Sweeney, Christian worked as an attorney in the Boston office of a leading global law firm and as legal counsel for the State of Rhode Island in the Office of the Governor.
On behalf of clients, Christian Jenner has:
Obtained civil judgments against two perpetrators of a fraudulent scheme that used falsely reported receivables to obtain a business loan from a local financial institution. Christian then led the investigation to locate concealed and fraudulently transferred assets, and ultimately recovered over $1,000,000.
Represented clients pursuing claims arising out of failed software implementation projects.
Moved for summary judgment in a purported beneficiary's action to recover the proceeds of two multi-million dollar term-life insurance policies. The Court granted the insurer's counterclaim to rescind those polices on the grounds that the insured made material misrepresentations on the insurance application.
Obtained dismissal of putative class action and individual lawsuits asserting conspiracy, fraud and statutory claims arising out of a life insurance company's alleged sales practices in a multidistrict litigation.
Christian was named by Super Lawyers as a Rising Star 2014, 2015, 2016 and 2017.  Specifically, he is noted for the categories of general litigation, business litigation and e-discovery.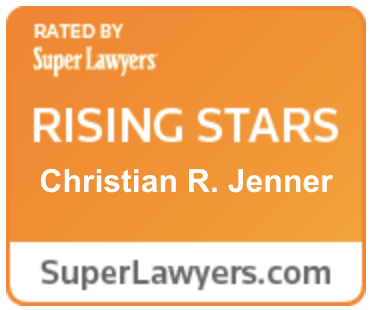 Christian is a strong advocate and frequent speaker and writer on e-discovery protocols and workflow.
He was a featured speaker for the Rhode Island Bar Association's Food for Thought program entitled "The New Normal" where he focused on electronic discovery and, specifically, what contemporary litigation requires of litigators, and how attorneys can winnow enormous amount of data (now measured in terabytes) into the exhibits actually used at trial. Christian surveyed available electronic discovery tools and how attorneys and their investigators can employ technology to identify powerful evidence for use in litigation.  (October 2015)
Christian guest-authored an article in Providence Business News on digital spring cleaning entitled "Curbing Digital Debris." Christian shared: "As a litigation attorney, I often advise businesses in responding to discovery requests, like requests for production of documents and electronically stored information. Often, the e-discovery process reveals the existence of data and documents that serve no business or legal purpose. This digital debris could be from employees saving copies but never deleting them. It can also accumulate as a result of purposeful conduct, such as digital hoarders who have chosen to keep everything indefinitely." See full PBN article here. (April 2015)
Christian  was one of two presenters at a Rhode Island Bar Association program entitled "Your First E-Discovery Harvest"  that focused on the exchange of electronically stored information (ESI) in connection with litigation and investigations. (December 2013)

My Blog Posts
Education
Georgetown University (B.S. 2003 Mathematics & Philosophy,  summa cum laude)
Harvard Law School (J.D. 2007, cum laude)
Bar & Court Admissions
Rhode Island, 2007
Massachusetts, 2007
US Court of Appeals for the First Circuit, 2008
US District Court, Massachusetts, 2008
US District Court, Rhode Island, 2009